APEX CONSULTANT.JSC in Vietnam is the latest sales and distribution partner for FORUM8.
This company was established based on the experienced human resources who worked in head companies about highway and bridge engineering consulting. It also cooperates with a large number of professionals working in project management units, consulting companies as well as professors, doctors at the institutes and universities in whole country.
To become a construction consultant company which is ranked highly in domestic and abroad, APEXCO.JSC is building a quality management system closely towards clients, willing to meet all the demands, providing consulting service, surveying, designing, construction, technology transfer and commercialization.
Business and production activities of APEXCO.JSC are multiple varieties in the field of consultancy, surveying, and construction within and outside transportation sector: Design of bridge and highway constructions, Design of electrical system for civil engineering and industrial, Project management consultant, construction consultant, bidding consultant, Surveying of construction work topography and geology, Consultant for report of environmental impact assessment, Study, application, training and transfer of new technology in the field of designing, construction of transport, irrigation and infrastructure construction, etc.
Why this company became a dealer of FORUM8 is that the Fourth Industrial Revolution has affected many countries, including Vietnam. Infrastructure in Vietnam is still developing, so that the application of new technology in the design, construction and operation of infrastructure works is still not popular. Therefore, with the potential market as Vietnam, APEX wants to cooperate with FORUM8 for the purpose of applying BIM technology and some other technology products to not only in the transport sector but also in civil and industrial construction. APEX hopes that with the expertise in technology and the local market combined with business experience and the great products of FORUM8, the partnership between the two companies will be successful.
Currently APEX is now using UC-win/Road software in the design of traffic works. In the future, APEX would like to cooperate with FORUM8 in the transfer of using all FORUM8 software, not only in design but also in construction and operation of civil engineering and traffic works. Moreover, APEX also wants to cooperate with FORUM8 to transfer equipment to apply new technologies to Vietnam.
To achieve this goal, the first thing in APEX's plan is to focus on building a high-quality human-resources and the knowledgeable staff members of FORUM8 products. These staff members are able to both advise to clients on the superiority of the products and help customers implement the project and handling technical errors when needed. In addition, APEX will build information systems through press channels, websites, fan page and make use of special relationships to promote FORUM8 products. APEX desire to have close cooperation between two companies in order to well implement this plan. APEX trusts the success of cooperation with FORUM8 and will spread BIM/CIM in Vietnam.
CEO Vu Tien Luc
Office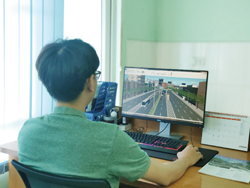 An engineer using UC-win/Road